KIT Communications provides and installs nurse call systems for hospitals, doctors offices, long term care facilities, clinics, hospitals, senior care, and assisted living facilities in Pennsylvania. As a partner for Carehawk Nurse Call Systems, built on the legacy of Dukane Nurse Call, KIT Communications can offer systems with a variety of modern features and capabilities.
Visual Nurse Call systems effectively monitor bedroom & bathroom call stations across your facility. Residents can easily request staff assistance using a button or a pull cord call station. Staff can track calls using corridor light fixtures, wall mounted annunciator panels. Nurses and other staff can even communicate using mobile devices.
Monitoring and Reporting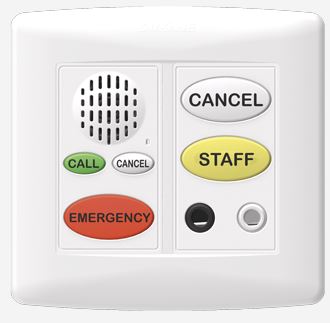 Workload monitoring and reporting can provide detailed data on each call to help demonstrate to both management and clients how responsive your staff is to the individual care needs of each resident. Detailed reporting on nurse call response reduces risk and liablity and provides confidence to familie knowing their loved ones are well cared for.
Nurse Presence
In addition to clear staff presence indications over each patient room, our systems can improve response times by allowing patient rooms to temporarliy serve the dual role of a duty station so the closest staff memeber can be dispatched to the next call, improving response times and eficiency.
Two-Way Voie Communications
Two-way voice communication with residents allows nursing staff to provide immediate verbal response to call requests
Peripheral Device Integration
Carehawk/Dukane Nurse Call systems can be expanded to include peripheal devices such as wireless phones, call cords, bed exit devices and other peripheral devices for a comprehensive solution
Paging
Our Dukane nurse call system canbe exapnded with a paging module providing four independent paging zones for ahllways and common areas.
KIT Communications is a Nurse Call Installation Contractor in Pennsylvania serving medical clients in Central and Eastern PA. If your facility is looking for a Nurse Call Contractor, don't hesitate to call us at the number above. Our engineering team will be happy to talk over your options for a new or upgraded Nurse Call System and get you a quote for a turn-key system.