KIT Security experts provide
video security camera system
, installaton and support to the Allentown area, with a primary focus on business, goverment, and educational facilities in the Allentown PA, Whitehall/Bethelehm area.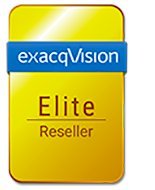 We are an elite dealer for Exacq Vision VMS, a powerful, user-friendly video surveillance security camera system system that interfaces wtih the most popular security cameras, makes finding and backing up critical video easy, integrates with a variety of other security systems such as door access, and brings together larger deployments under a single intuitive system. As an integrator serving the Allentown area, we have access to a great many NVR/DVR/VMS solutions for your security camera head-end, so if an Exacq video surveillance system is not the right fit for you, we can still help. We have vetted many of the security camera systems in the CCTV marketplace, and will steer you toward those NVR/DVR systems and security camera equipment we have found to have the best price, for the greatest results, and that fit your particular needs.
We are proud to say we hold the PEPPM contracts for Exacq Vision NVR/DVRs and LTS Video Security Cameras, providing the perfect blend of functionality, video quality, and low price for your state and local goverment and educational clients in the Allentown PA area.
If you choose KIT as your security system provider in the Allentown area, not only will you get a great price for everything described above, but what really sets us apart is our dedication to helping you succeed. We value every instal as a new rave review and loyal fan of our dedicated service, and we want to make sure you are as impressed as our current clients are. If you are considering having a video security camera system installed in the Allentown/Bethelem/Easton area, Give us a call. You will glad you did.
- Intuitive Video Management Software (VMS)
- Scaleability from small business to Enterprise
- Compatibilty with a wide variety of security cameras
- Cost-conscious Upgrades from analog Cameras to IP. (Keep your existing analog cameas, upgrade your head-end)
- High resolution megapixel cameras at a great price
- Multi-site solutions under a single video management platform
- Remote access from anywhere (PC/Mac/Smart phones, tablets)
- Robust 'thick' client for PC that makes the user experience much smoother browser based alternatives
- Knowledgeable, and friendly CCTV technicians and system designers
If you are are wondering what a CCTV security camera system can do for you, it can:
- Provide valueable information and evidence for a wide variety of situations
- Deter vandalism and offer valuable evidence when it does occur.
- Potentially lower your insurance costs
- Reduce theft (shrinkage)
- Increase productivity.
If you are looking for quotes for security camera installation contractors in the Allentown area, include a quote from KIT. You won't find a better value, or better service.