KIT Communications provides and installs turn-key video surveillance security camera systems in the Harrisburg PA area. We provide design, support and installation services and have carefully selected our CCTV video surveillance products to be the best balance between price and performance on the market.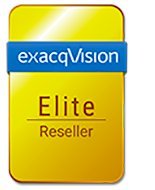 We are an elite reseller for Exacq Vision NVRs and Video Management software, a vendor neutral platform that supports most IP security cameras on the market. We combine this intuitive and scaleable VMS platform with high performing, high resolution IP cameras with average resolutions of 4 Megapixels per camerea. This combination presents our end users with an intuitive interface that makes finding and saving high quality video security footage a breeze.
If you are looking for a video surveillance security camera installer for a facility in the Harrisburg PA area, including Mechanicsburg, Carlisle, Camp Hill and Middletown, give us a call at 717-685-8100. You will glad you did.
We also serve other areas in PA and NJ. Click on the
Service Area Map
to see our complete serving area.
- Intuitive Enterprise level Video System Interface
- Scaleabe systems from small single site, to huge enterprise and everything in between
- Vendor neutral software compatible with most security camera brands
- Cost effective Upgrde options from legacy analog systems
- High resolution megapixel security cameras at great prices
- View multiple NVRs and buildings from a single interface
- Cross platform compatibility: Windows, Mac, Linux, IOS, Androids)
- Experienced and helpful security technicians and system designers
If you are seeking quotes for a video surveillance system in the Harrisburg PA area, be sure to include a quote form KIT Communications.