We design and install professional grade
video surveillance systems
for businesses and schools in Lancaster county, PA.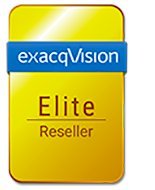 Enterprise Level NVRs and Video Management
Our status as an elite dealer for the popular Exacq Vision Video Management System, allows us to provide powerful, scaleable, and yet user-friendly CCTV systems for the best price you will find. Exacq Vision integrates wtih most major camera brands, with door access systems, and much more. Their intuitive interface makes it easy for you or your staff to find the video you need in far less time than you might be used to. From smart searches that allow you to quickly find moments when there was motion in a particular part of your scene, to a scrub bar that gives you visual feedback as you swipe quickly back and fourth over large blocks of time, to easily marked start and stop bookmarks for exporting video, Exacq VMS makes dealing with recorded security footage easier.
High Performance Cameras for a Reasonable Price
The CCTV industry is rife with high-cost cameras that are sold mostly on hype rather than true value over their less expensive alternatives, and with low-cost cameras with poor engineering and support that sound great on paper, but simply donít work. Our engineers at KIT Communications have vetted many of these cameras, testing them against one another to find the lower cost cameras that deliver what they promise. Our result are systems with video quality that astonishes our clients for a much lower price tag than you are probably used to.
PEPPM Contract
If you are buying for a local or state government agency, keep in mind that we hold the PEPPM contracts for Exacq Vision and for LTS Cameras. This contract gives you special pricing on our systems for even more cost savings.
Dedication to Great Service
And while all of the above is reason enough to get excited about choosing KIT Communications as your CCTV installation contractor, what you will love most about that choice is our dedication to oustanding service. Providing great systems and great service is our company culture. If you are considering having a video security camera system installed anywhere in Lancaster County PA, Give us a call. You will glad you did.
- User friendly and powerful user interface (VMS)
- A system that can start small, but is designed to grow to any size
- High performing cameras at a great price
- Upgrade options for legacy analog systems, keeping existing but upgrading head-end
- Multiple locations viewed as one system
- Remote access to the entire system from PCs, Macs, smart phones, tablets, and even Linux
- Application based Video Management Software (much faster and more robust than browser based solutions that most limit you to)
- Knowledgeable, and friendly CCTV technicians and system designers
A video security system can do a lot for your organization, including:
- Offer critical footage or evidence for a many situations
- Deter bad actors BEFORE they cause trouble, and provide evidence when deterance fails.
- In some cases, a video surveillance system can lower your insurance costs
- Reduce theft (shrinkage)
- Increase productivity.
If you are looking for quotes from video security camera installation contractors in Lancaster County, include a quote from KIT. You won't find a better value, or better service.