Based in Pennsylvania with engineers and technicians positioned at various locations in Eastern PA and in New Jersey, KIT Communications offers video surveillance design and installlation services to business and educational clients in Norristown PA and the surrounding area.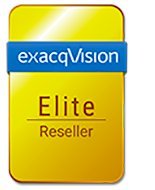 Enterprise Level NVRs and Video Management
We focus on video surveillance systems that combined powerful integration a multitude of cameras and other systems, seemless scaleability from small single-site systems to large enterprise deployments spread across many facilities, and an intuitive user interface. Finding the video you want when an incident occurs, can be a tedius and frustrating task, but our systems provide a variety of tools to speed this task and make it easy to find the video you want. Our systems integrate with access control, POS and other systems as well, further improving the value your security camera system brings to your organization.
Quality Megapixel Security Cameras for a Great Price
While we have access to just about any camera brand on the market, we have a special relationship with a few brands we have found to provide outstaning image quality for a much lower price than their equally performing competitiors. This marriage of enterprise level head-end NVRs and software with lower cost high resolution security cameras allows us to provid our clients high performing, high resolution systems for a great price.
PEPPM Contract
We are the proud PEPPM contract holders Exacq NVR/DVRs and VMS, LTS video security cameras, and cabling lines. So, if you are purchasing for a school or any other local or state government organization in Norristown/Pottstown/Lansdale region, we offer a complete turn-key video surveillance security camera system within the PEPPM contract.
Dedication to Great Service
Our engineers and technical staff are experienced and focused on providing solutions that help our clients succeed. While Our experience with structured cabling an network infrastructure position us well to deliver high peforming IP-based video security camera systems, it is our dedication to customer service that you will remember most about us. If you are considering a new video surveillance security camera system, or making changes to a surveillance system you already have, give us a call and see!.
- Powerful intuitive VMS interface
- Scaleabe video surveillance systems from small single-site to multi-site enterprise systems.
- High resolution megapixel security camera images at a reasonable price
- Upgrades to IP format while keeping your existing analog cameras and integrating them
- Cameras at multiple sites connected to different NVRs, all acting as a single integrated system to users and administrators.
- Multiple client software options: Windows, Mac, Linux, Android, IOS
- Experienced technical staff, commited to meeting your needs
When considering a video surveillance integrator for installations anywhere near the Norristown PA area, consider using KIT Communications. .