KIT Communications provides design and installation services in the Reading PA area for
video surveillance systems
for businesses and schools.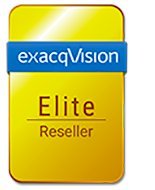 Enterprise Level NVRs and Video Management
We design and install video surveillance systems with powerful and intuitive video management and outstanding support at a great price for clients in the Reading PA area. We select VMS software that integrates wtih most major video security camera brands, and with many other systems and devices like access controll, POS systems and much more. An intuitive user-facing software platform makes finding critical video a breeze, sparing you or your staff the frustrating time investment required to find video amongst hours and hours of recorded footage. With featurs like a scrub bar that lets you quickly scan through large blocks of time with visual cues to let you quickly hone in on the target time period, to smart searches that let you select a specific area on a given security camera view and jump to times when motion occured just there, to quick start/stop bookmarks that make defining your start and stop times a breeze, the video surveillance platforms we deploy make finding video easy.
Quality HD Security Cameras for a Reasonable Price
While we have access to many major security camera brands for video surveillance systems, we have established relationships with a few brands that provide amazing quality images for a fraction of the price of other major name brands. There are many IP security cameras on the market that are extremely expensive, and many on the market that are cheap, look great on paper, but a huge dissapointment when you try to actually use them. We have spent the time vetting many of these security camera options and found the blend we think provides the best balance between price and quality. And what's great is, our HD security cameras, while inexpensive, perform better than many of their major brand competitors seeling at twice the price! The end result of all this are security camera systems with surveillance video quality that astonishes our clients for a much lower price tag than you are probably used to.
PEPPM Contract
We hold the PEPPM contract for Exacq NVRs and VMS, LTS cameras, and cabling lines. So, if you are purchasing for a local or state government agency in the Reading PA area including all of Berks County and beyond, we can provide an end-to-end video surveillance system within the PEPPM contract at a great price from a single vendor.
Dedication to Great Service
But what will ultimatly make you glad you chose KIT Communications, is our dedication customer service. Our engineers and technicians are both knowedlable and friendly, with a focus on making sure we are helping you and your organization succeed. If you are in the market for a video security camera system installed anywhere in the greater Reading PA area, give us a call. You will glad you did.
- Fast and intuitive software (VMS)
- Scaleability from starter systems of a few cameras, to enterprise level systems spanning multiple sites with hundreds of cameras
- Crystal clear megapixel images at a reasonable price
- Upgrades to Exacq IP-based head-end while keeping and integrating existing analog cameras
- Cameras at many locations, connected to many NVRs, presented as a single integrated sytem to the users and admin
- User interface options include thick-clients for PC, Mac, and Linux, web browser interface, and mobile app
- Helpful and experienced technicians and engineers who are commited to meeting your needs
When considering a video surveillance integrator for installations in Reading PA or anywhere in Berks County, make sure you include KIT Communications. When it comes to designing andinstalling CCTV surveillance systems with megapixel security cameras, you won't find a better value, or better service.