KIT Communications designs and installs thermal imaging elevated body temperature detection camera systems for business, government, and educational organizations in central and eastern Pennsylvania. Working with a number of high quality thermal camera manufactures, we offer solutions to fit a variety of environments and needs.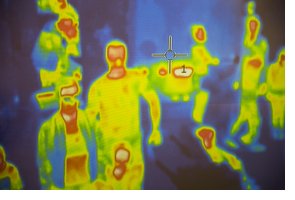 Our solution set includes FDA Approved fever detection cameras which are accurate to within 0.2°C (0.36°F) for non-contact screenings at building entrance or other controlled access points and General elevated body temperature detection cameras for surveying larger crowds and detecting suspected fever candidates for secondary screening. Some cameras can be integrated with general video surveillance systems, and others are intended as stand-alone screening stations.
Our engineers will be happy to discuss the particulars of your building(s) and design a solution that suits your needs and budget. Call or email today to see how we can help.
Benefits of thermal imaging fever detection camera systems:
- Non-Contact screening reduces the chance of spread to screening personnel
- Direct thermal camera screening is fast, reducing conjestion at building entrance.
- Accuracy: Temperatures can be measured to within 0.36°F
- Advanced analytics reduce false positives from hot drinks and other high temperature objects
- Real time results allow immediate action to protect your employees and guests
Some of the solutions we install include:
- FLIR Thermal Imaging Cameras with smart sensor configuration (FDA Approved)
- ICI Infrared Thermal Cameras (FDA Approved)
- SEEK SCAN thermal camera screening solutions
- Feevr AI based elevated temperature crowd screening