If you haven't already, its time to upgrade from your legacy analog cctv system to IP Video Surveillance and leave behind the old resolution limits of analog cameras. KIT Communications is an Exacq Vision partner and installs a variety of high end megapixel IP cameras including Arecont, Axis, IQeye, as well as some low cost megapixel alternatives that deliver amazing results at an incredible price

High Resolution Images
By the very nature of the NTSC format, legacy analog video cameras are limited to a maximum theoretical resolution of 704 x 480. In practice, the actual perceived resoution even for the best NTSC analog cameras is much lower than this even. IP video surveillance on the other hand has no such limitation, so 2 megapixel (2MP) cameras at 1920 x 1080 resolutions are common, with much higher resolutions available with 4MP, 5MP, and even 10MP cameras. Compare this to the very best analog camera at 0.38 Megapixels, and its easy to see just how much is gained by migrating to IP
Click here for some sample images that illustrate the difference between analog and various megapixel cameras.
Usable Footage
Another point to consider when selecting your video surveillance system is that a very high percentage of video footage retrieved by law enforcement, turns out to be inadequate. The temptation is to put inexpensive low-resolution cameras in with the thinking 'Its better than nothing!" But, when an event occurs and you find yourself relying on that footage to investigate, challenge a bogus WC claim, or prossecute, having inadequate footage is an amazingly frustrating experience!
Network Bandwdth Concerns
A common concern when considering an IP video solution s the impact it will have on the exiting network. IT staff who work hard to ensure a smootly operating network worry that introducing a constant stream of video bandwidth onto the network, will wreak havok with the performance of the enptirse network system.
KIT Network Cablng designs and installs video surveillance systems that elimiate this issue. IP video is transmited back to video servers on a completly seperate network. Since we are also a network cabling contractor, achieving this is no problem. Often, the existing backbone infrastructure can be used to create a secondary IP video network at very little additional cost. This approach keeps all live video traffic off the main network. When a user wants to view live or recorded video, the server can send out a compressed version of the video on the main network. In this way, the impact of high resolution video on the entperise network is drastically diminished.
Exacq Elite Reseller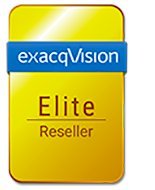 KIT Network Cabling is an elite reseller for Exacq VMS, a leading manufactuer of video management systems (VMS) software and servers. Their open architecture approach ensures interoperability with IP camers, servers, and storage systems from manufactures such as IBM, HP, and Dell. They fully integrate with a vast array of IP Camera manufactuers including Axis, Arecont, IQinvision, GE, LT Security (LTS), Panasonic, Sony, ACTi, CBC Ganz, Vivotek, and more. ExacqVision Client Software is available for Windows, Mac, or Linux, or can be accessed via a web browser or smart phone assuring a great deal of fexibility in how the system is accessed.

Analog Integration
Exacq has a complete line of Hybrid IP Video servers (IP and Analog interface), as well as stand alone encoders. These components allow us to capture video from all of your existing analog cameras, and bring them into your new exacq IP video system. This allows you to upgrade your system head-end, but upgrade your cameras slowly over time as budgeting allows.

Panoramic Cameras
Included in the vast array of IP camera offerings are a variety of panoramic cameras. Panoramic cameras offer a complete 180 degree or even 360 degree view. IP Solutions managed by Exacq Vision allow for such cameras to either bind an array of cameras together as one image, or use a 'fish-eye' lens to capture a larger area and then de-warp the image so that is appears normal when viewed through the software.
Our Service Area
KIT Communications provides video surveillance installation services to Eastern Pennsylvania and all of New Jersey including metro areas like Harrisburg, Allentown, Lancaster, Reading, Wilkes-Barre, Cherry Hill, and Philidelphia. We also server many other parts of the US via a vast authorized contractor network.