Expert Data Center Construction and Design in Pennsylvania
At KIT Communications, we specialize in creating sophisticated data centers that become the operational cornerstone of your business. Offering our services throughout Central and Eastern Pennsylvania, we serve key areas including Lancaster, Harrisburg, Reading, York, Allentown, Lebanon, and Norristown.
Advanced Data Rack and Cabinet Installations
We cater to your specific needs by providing and installing a range of data rack options, including 2-post and 4-post data racks, as well as full server cabinets. Our meticulous installation ensures an organized, efficient environment that enhances the functionality of your data center.
Raised Flooring Systems
Enhancing your data center environment, we install raised flooring systems to facilitate effective cable management and efficient air flow. This strategic design element aids in maintaining an optimal temperature for your hardware, while keeping cables neatly tucked away.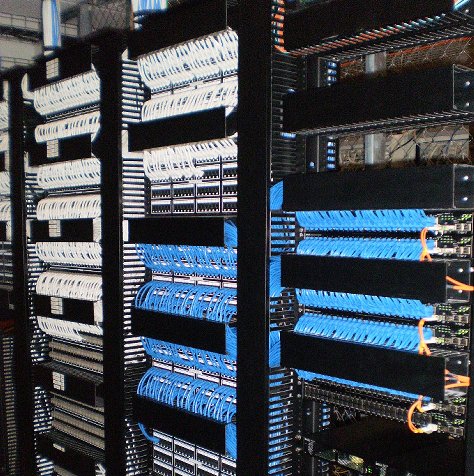 Cable Tray and Ladder Rack Systems
For efficient cable routing, we install cable tray or ladder rack systems. These essential systems establish pathways between racks and cabinets, enabling the orderly arrangement of your cabling, minimizing clutter, and improving the overall organization and maintenance of your data center.
Intermediate Data Frames (IDFs)
For your satalite data closets (IDFs) where available space is an issue, we install wall-mounted double hinged data cabinets that allow access to both the front, and back of your network equipment. For warehouse and manufacturing environments, we can mount these at ceiling height so they don't take up any floor space, and are out of reach of forklifts and other equipment that might damage them.
High-Volume Cat5e/Cat6 Cable Terminations
Our high-volume Cat5e/Cat6 cable terminations provide reliable, certified, and labeled network lines for each station in your data center. This ensures that your center's connectivity is both efficient and traceable, allowing for seamless operation and easier troubleshooting when necessary.
Data Center Security Solutions
Data security is paramount. We install physical room security features such as door access and video security systems, as well as rack-specific security measures including swipe card, auditable access to data racks. These security measures give you control over who accesses your sensitive data, along with the ability to monitor and record that access.
End-to-End Data Center Solutions
At KIT Communications, we go beyond merely installing data center equipment. We provide comprehensive solutions designed to deliver an efficient, secure, and reliable data center environment that supports your business's success. Our commitment to quality, combined with our deep understanding of data center technology, makes us your trusted data center contractor across Central and Eastern Pennsylvania. Experience our professionalism and expertise today.