Superior Wireless Bridge Design and Installation Services in Eastern and Central PA
In the modern digital landscape, secure, reliable inter-building connectivity is no longer a luxury—it's a necessity. As a leading provider in Harrisburg, Lancaster, York, Allentown, Reading, Lebanon, Bethlehem, and Norristown, KIT Communications presents sophisticated, high-speed wireless bridge solutions that revolutionize the way your buildings communicate.
Our premier wireless bridges, grounded in Siklu's state-of-the-art technology, offer a compelling alternative to fiber optic cabling. Whether trenching pathways for an underground fiber optic connection, installing poles for an aerial connection, or getting approvals to use public utility poles is impractical or cost-prohibitive, we deliver the seamless, inter-building connections your organization needs.
The Power of Siklu's mmWave Networks for Your Business
We recognize that businesses need secure, private networks to protect against cyber threats, ensure efficient operations, and enable seamless communication. That's why we trust Siklu's mmWave networks operating in the 60, 70/80GHz bands. These networks are free from interference and can easily establish connections ranging from 1 to 10 Gbps—even in dense urban areas.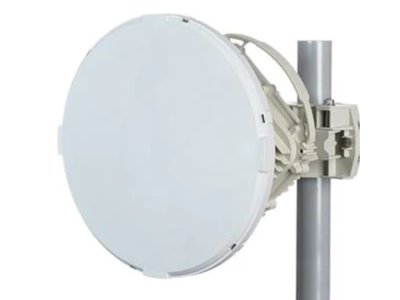 The Siklu EtherHaul™ Kilo series is engineered for point-to-point deployments. It offers capacities from 1 Gbps up to 10 Gbps Full Duplex, covering distances as far as 3 miles (5.5 km). With Siklu's patented "ExtendMM" software, we can even extend these links to 6 or 7 miles (11 – 13 km).
Moreover, the narrow beam angles of mmWave make jamming or tapping into the transmission impossible without detection, further enhancing your network's security.
Flexible and Cost-Effective Wireless Bridge Solutions
We understand the inherent cost and logistical challenges of fiber optic installation. Our wireless bridge solutions present a viable alternative, offering a fixed installation cost and throughput speeds of up to 10 Gbps. Whether you're in Harrisburg, Reading, or Norristown, our solutions provide the bandwidth, speed, and security you require—without the significant infrastructure investment of fiber optic cabling.
Our wireless bridges can be configured for long-distance links between two points that are miles apart, providing your organization with unrivaled flexibility. They can serve as a high-speed connection for your satellite buildings, or as a redundant link for high availability systems, ensuring continuity of your operations.
Trustworthy Wireless Bridge Installation and Maintenance
At KIT Communications, we are committed to delivering wireless bridge solutions that work consistently and efficiently. We leverage reliable, outdoor, enterprise-grade equipment and conduct meticulous site surveys to determine the optimal setup for your organization. We scan the airspace under consideration and provide you with a detailed report of our findings and recommendations, ensuring a seamless and efficient installation.
Post-installation, our team remains available to provide swift issue resolution and maintenance, maximizing uptime and optimized performance for your wireless bridge network.
Transform Your Inter-Building Connectivity with KIT Communications
From Bethlehem to Lancaster and beyond, we're ready to empower your operations with high-speed, secure wireless bridges. Experience the difference our solutions can make for your business. Reach out to KIT Communications today and take the first step towards superior inter-building connectivity in Eastern and Central PA.