At KIT Communications, we are proud to provide comprehensive environmental sensor systems, including advanced vape detection, across Central and Eastern Pennsylvania. We serve Harrisburg, Lancaster, York, Lebanon, Reading, Allentown, Bethlehem, and Norristown, offering top-tier systems that monitor and alert for a variety of environmental factors, improving safety and compliance in businesses, schools, and public institutions.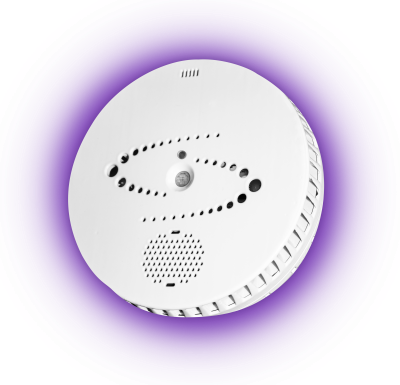 Partnering with Industry Leaders
We partner with industry leaders like HALO, Rhombus, Triton, and Verkada to bring you an array of sensor options designed to fit your specific needs. These partnerships allow us to craft systems that provide precise monitoring of air quality, detect vape and chemicals, and even identify sounds such as gunshots or shouting.
Features and Benefits of Our Environmental Sensor Systems
Our environmental sensor systems bring together a variety of advanced features designed to ensure a safer and healthier environment. From real-time vape detection to comprehensive air quality monitoring, we can tailor a system to address your particular needs and concerns. Here are just a few features our systems can provide:
Comprehensive Vape Detection
Our systems are equipped with state-of-the-art sensors capable of detecting a range of vape substances, including nicotine and THC, facilitating a healthier environment especially in school and other educational institutions.
Privacy Compliance
Our sensor systems prioritize privacy and operate without recording video or audio, providing ideal solutions for sensitive areas such as bathrooms, dorm rooms, hospital rooms, and more.
Real-time Notifications
Equipped with smart sensors, our systems send real-time notifications to designated personnel whenever they detect abnormalities. This allows for quick responses to incidents and keeps you constantly informed.
Integrated Environmental Monitoring
In addition to vape detection, our systems monitor air quality, detect chemicals, and even identify specific sounds, providing an all-encompassing security solution for your premises.
Custom Solutions to Fit Your Needs
At KIT Communications, we understand that each premise is unique and requires a tailored solution. We work with you to understand your specific needs, then design and install a system that meets those requirements. Our team is with you every step of the way, from initial consultation through installation and beyond.
Contact Us Today
Take the first step towards a safer, healthier environment today. Reach out to KIT Communications for more information on our environmental sensor systems, including vape detection. We're ready to assist in Harrisburg, Lancaster, York, Lebanon, Reading, Allentown, Bethlehem, and Norristown, PA. We look forward to helping you create a secure and compliant environment.