Comprehensive Visitor Management Solutions in Pennsylvania
At KIT Communications, we understand the importance of implementing effective visitor management solutions to ensure the security and operational efficiency of your facility. Whether you're a K-12 school, a university, or a business in Allentown, Reading, Bethlehem, Lancaster, Harrisburg, York, or Norristown, we offer a variety of cutting-edge visitor management technologies designed to streamline the process of welcoming, tracking, and managing visitors while maximizing safety and security.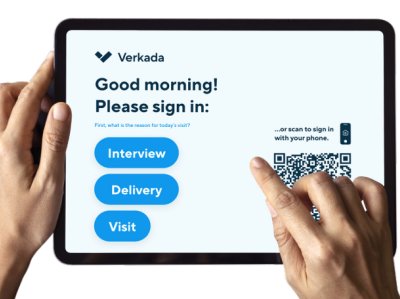 Seamless and Secure Visitor Experience
We offer solutions that enable seamless check-in experiences for guests, including touchless check-in options, automatic badge printing, and customized check-in questions. Our solutions, from brands such as Verkada, Aiphone, and Envoy, allow visitors to effortlessly navigate your premises while maintaining stringent security protocols. From video intercom systems for visual confirmation of guest identity to advanced platforms that offer document signing and pre-arrival check-in options, we cater to a wide spectrum of visitor management needs.
Enhanced Security and Control
With our visitor management solutions, you gain enhanced control over visitor activity. Features such as remote door unlock, color-coded badge printing for easy guest identification, and screening against criminal databases and sex offender registries enable a robust layer of security. Integrated video security and access control further empower your security teams, allowing them to review video footage of visitor activity and remotely manage access points across your premises.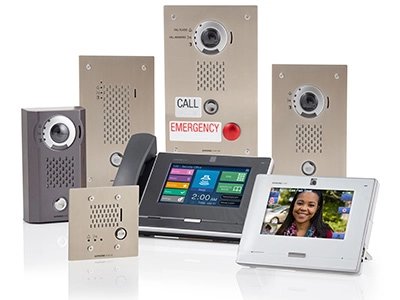 Streamlined Administrative Workflows
Our visitor management solutions are designed to streamline administrative tasks, providing a unified view of visitor activity, instant host notifications, and integration with your existing software systems. Features such as automatic host notifications upon guest arrival, single-view management of visitor activity, and visitor log exports can dramatically enhance your operational efficiency. Regardless of the size of your institution or business, our solutions can be scaled to meet your specific needs.
Customized and Integrated Visitor Management Solutions
We realize that each organization's needs are unique. Whether you require a simple video intercom system with door access control or a comprehensive, touchless visitor management solution, we have you covered. Our solutions, including those from Verkada, Aiphone, and Envoy, offer a wide range of customization options, allowing you to tailor the visitor experience to your needs. From default check-in templates to branded welcome screens and custom printed badges, we provide solutions that enhance your brand's image while ensuring a smooth and secure visitor management process.
Visitor Management Installation and Support in Pennsylvania
As your trusted visitor management solution provider in Pennsylvania, we don't just offer top-tier technology; we also provide professional installation and unparalleled support. We assist you every step of the way, from selecting the most suitable visitor management system for your needs to ensuring its seamless integration with your existing infrastructure. Our commitment to excellence extends beyond installation, as we offer ongoing support to ensure your visitor management solution continues to serve your needs effectively and efficiently.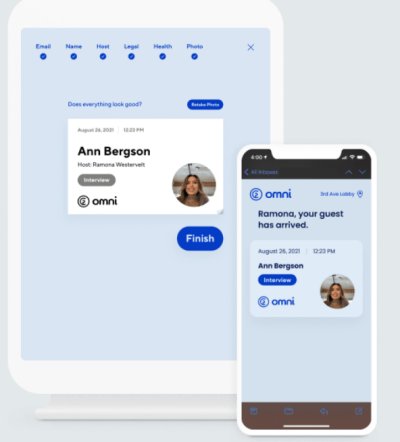 Benefit from Advanced Visitor Management Features
The visitor management systems we offer include cutting-edge features such as touchless sign-in via QR code, pre-registration of guests via calendar invite, and self sign-out options. With the ability to create tailored workflows that seamlessly welcome guests, you can provide an outstanding visitor experience while maintaining high security standards. Additionally, advanced features such as proactive alerts, auto-approve and auto-deny lists, and visitor background checks can significantly enhance your organization's safety and security.
Integrated Approach to Visitor Management
Our visitor management solutions integrate seamlessly with the entire ecosystem of your security infrastructure. From Verkada's unified cloud-based software platform, Command, which allows you to customize your guest check-in experience, view visitor logs, and monitor and control guest activity, to Aiphone's comprehensive intercom and security communication systems, we provide holistic solutions for your visitor management needs. With an integrated approach, you can manage your visitor management system from virtually anywhere, enhancing your control and visibility over visitor activity.
Your Trusted Partner for Visitor Management Solutions in PA
As a leading provider of visitor management solutions in Pennsylvania, KIT Communications is committed to delivering high-quality, effective, and tailored solutions that meet your needs. Our expertise spans a wide range of technologies, including advanced systems from top brands such as Verkada, Aiphone, and Envoy. With our comprehensive solutions, professional installation, and ongoing support, we can help you enhance your visitor management processes while maintaining a high level of security.
Contact Us for Your Visitor Management Needs
Whether you're in Allentown, Reading, Bethlehem, Lancaster, Harrisburg, York, or Norristown, we're ready to assist you in implementing a visitor management system that meets your needs. Contact us today to learn more about our visitor management solutions and how they can enhance your security and operational efficiency. With KIT Communications, you can be confident in providing a welcoming and secure environment for your visitors while maintaining control and visibility of your premises.