At KIT Communications, we understand the pivotal role communication plays in healthcare. We are proud to provide top-tier nurse call system installation services to hospitals, clinics, senior care, and assisted living facilities across Pennsylvania, including in cities like Harrisburg, Lancaster, Reading, York, Allentown, Lebanon, and Norristown. Leveraging our partnership with Carehawk Nurse Call Systems, we aim to offer state-of-the-art nurse call systems with an array of modern features tailored to your facility's needs.
Visual Nurse Call Systems
A core component of our service, visual nurse call systems, enable effective monitoring of bedroom and bathroom call stations throughout your facility. They offer residents an intuitive method to request staff assistance using a button or pull cord call station. Staff can track calls using corridor light fixtures, wall-mounted annunciator panels, and even through mobile devices, ensuring timely and efficient response to patients' needs.
Monitoring and Reporting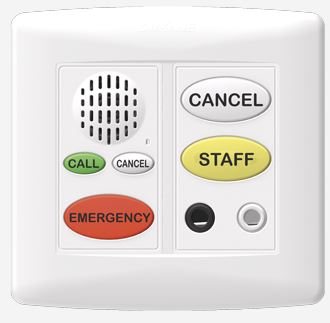 Our nurse call systems come equipped with advanced workload monitoring and reporting features. This provision can yield detailed data on each call, serving as a comprehensive record of your staff's responsiveness to individual resident care needs. Such insights can assist in management decisions, liability reduction, and demonstrate to families the level of care their loved ones receive, fostering a deep sense of trust and assurance.
Nurse Presence
Our systems allow for clear staff presence indications above each patient room, improving visibility and promoting better patient-staff communication. A distinct feature of our systems is their ability to temporarily assign patient rooms the dual role of a duty station, dispatching the closest staff member to answer the next call, thereby enhancing response times and overall efficiency.
Two-Way Voice Communications
In line with our commitment to foster seamless communication, our nurse call systems also allow for two-way voice communication between residents and nursing staff. This feature enables immediate verbal responses to call requests, ensuring patients receive quick reassurance and care.
Peripheral Device Integration
Carehawk/Dukane Nurse Call systems are designed for expansion and compatibility with peripheral devices such as wireless phones, call cords, and bed exit devices. This integrative approach promotes a comprehensive communication solution catering to a wide range of patient needs.
Paging
The Dukane nurse call system can also be enhanced with a paging module, providing four independent paging zones for hallways and common areas, further augmenting communication channels within your facility.
Why Choose KIT Communications?
KIT Communications is a leading nurse call system installation contractor, proudly serving medical clients in Central and Eastern PA, including Harrisburg, Lancaster, Reading, York, Allentown, Lebanon, and Norristown. If your facility is considering a new nurse call system or an upgrade to your existing one, don't hesitate to reach out to us. Our experienced engineering team will be glad to discuss your options and provide a comprehensive, turn-key system quote.
At KIT Communications, we combine the power of advanced technology with our commitment to quality service, creating a robust communication solution that truly enhances your patient care experience. Contact us today to learn more about how we can help you optimize your healthcare communications.