Your Preferred Low Voltage Contractor in Eastern Pennsylvania
Since 2000, KIT Communications has been installing network cabling systems for businesses and government agencies throughout Central and Eastern Pennsylvania, including Harrisburg, Lancaster, Reading, York, Allentown, Lebanon, Norristown, and West Chester. Our deep commitment to quality, neat installations, and adherence to BICSI training standards have earned us an esteemed reputation as a leading low voltage contractor.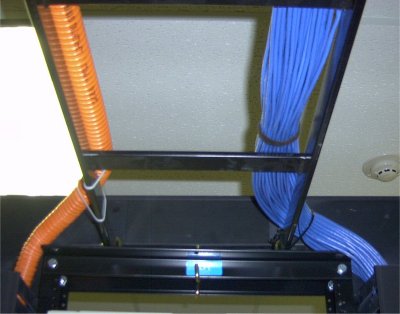 Structured Cabling: Cat5e and Cat6 Installations
Our structured cabling services include the installation of Cat5e and Cat6 cabling, both of which deliver gigabit speeds at distances up to 100 meters. These types of cable installations are the most commonly requested, offering a balance of performance and cost-effectiveness for many businesses. Whether it's a Cat5e cable installation or Cat6, we ensure it supports your network's speed and reliability requirements.
Cat6A Cable Installation for Enhanced Network Performance
For organizations seeking higher network performance, we offer Cat6A cable installations. Cat6A cabling delivers speeds of up to 10Gbps at standard 100 meter distances , offering a significant performance increase over Cat5e and Cat6, particularly beneficial for businesses with demanding network needs.
Specialty Network Cabling: Cat8 and Industrial Environments
In specific use cases such as connections between racks in a data room or servers located nearby, we offer Cat8 cabling installations. Though less common, Cat8 cabling supports ultra-high-speed connections of up to 40Gbps over limited distances. In industrial environments, where network connection points may be exposed to water or dust, we install robust solutions designed to withstand these harsh conditions.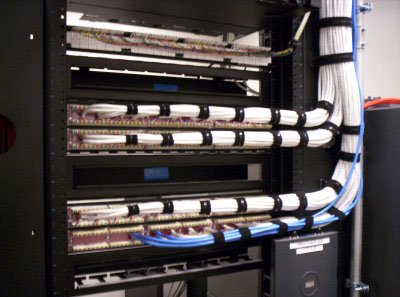 Shielded Cabling Solutions and Quality Assurance
For electrically noisy environments, we offer shielded cabling solutions that mitigate the impact of electromagnetic interference, ensuring consistent network performance. Our commitment to quality extends to our Ethernet speed testing and level three certification testing for Cat5e, Cat6, and Cat6A connections, assuring you that your network operates at its peak.
Extensive Outside Plant Cabling (OSP) Services
We extend your network beyond the confines of your buildings with our comprehensive Outside Plant Cabling (OSP) services. Our team expertly installs aerial and underground campus fiber backbone cabling, meticulously adhering to industry best practices to ensure reliable connectivity. Whether it involves work on poles for aerial cabling, or trenching and installation of underground conduit for subterranean cabling, we've got you covered.
Fiber Optic Cabling and Data Center Builds
When high-speed data transfer is a priority, our fiber optic cabling installations offer the solution. Fiber optic cabling supports faster speeds and greater distances compared to traditional copper cabling. In addition to installation, we offer OTDR testing services and fusion splicing. Learn more about our comprehensive fiber optic cabling services.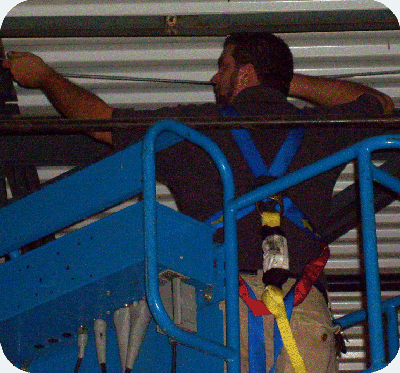 Data Center Builds for Advanced Networking Needs
For larger-scale network requirements, we provide data center build services, catering to businesses needing high-performance, large capacity data handling capabilities. Our well-thought-out designs focus on efficiency, scalability, and reliability, accommodating your present and future networking needs.
Meticulous Labeling and Cable Management
Every network cabling installation we undertake is meticulously labeled and managed. Well-labeled patch panels and network outlets, along with crisp cable pathways, make troubleshooting simpler and allow for easier network expansion in the future. Our emphasis on neatness results in data closets and racks that not only function well but also look professional and organized.
Choose KIT Communications for Network Cabling in Pennsylvania
Your network cabling is the backbone of your IT infrastructure. Its quality and reliability directly impact your organization's productivity and growth. By choosing KIT Communications as your network cabling and low voltage contractor, you entrust your infrastructure to experienced professionals who understand the importance of a well-planned, well-executed network cabling system. Our wealth of experience and commitment to quality are testaments to our excellence in serving the Eastern Pennsylvania region. Contact us today to learn how we can help you achieve your networking goals.